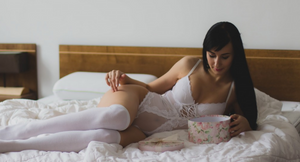 9 Butt Plugs That Will Up Your Role Playing Game
The old style sex will always become boring after some time and the need to make it more interesting takes center stage. Sex is a beautiful game that has numerous play combinations and styles. Role play for example, can bring a playful power dynamic into the relationship by creating a master and a slave in an erotic setting. Add some sex toys into this dominant versus submissive relationship and the stakes rise to exciting levels.
The use of butt plugs can provide incredible sensations to players and inject a fresh dimension to sex. Animal tail butt plugs will take it a notch higher during role play by stirring a wild thrill.
Here are the 9 tail plugs that might just elevate your bedroom experience.
Cat tail plugs
These are made of real fur and are presented in varying colors such as white, brown-grey and black. Three different sizes are available to choose from. Resembling cat tails, they allow you to play the role of a wild cat or a nice little kitty purring around in a sexy way.
The tails are attached to a stainless steel plug to give your butt a perfect throb and ensure dependability. So if you want to cuddle like a smitten kitten, then choose from the different cat tail plugs in this collection.
Pony tail butt plugs 
If you're into horses, the pony tail butt plugs will definitely entice you. Gallop along and take pleasure in these high-quality tails made from real horse hair. The hairs are silky and smooth for a comfortable touch and they exude the aura of a racing pony.
Attached to this magnificent tail is a silicone plug to give you the peace of mind in terms of quality and reliability. You can now trot around and let your partner ride the stallion.
Wolf tail butt plugs
If you fancy howling as you explore your sexual fantasies, these wolf tail butt plugs will excite you with their genuine, luxurious fur. They are available in three types which vary in fluffiness to ensure you and your partner are kept warm as the winter season approaches.
These wolf tails are attached to either a stainless steel or silicone plug. These authentic plugs have distinctive patterns embossed on them to give unique sensations. The tails measure a whopping 45 cm length in length giving you the look of a real wolf.
 Bunny tail butt plugs
If you fancy speeding down a rabbit hole with your tail wafting along, the Bunny tail butt plug will serve you perfectly. These tails are absolutely adorable with fluffy fur that gives a feeling of warmth and tenderness.
The butt plugs are small and are made of stainless steel and silicone. They also come in different colors to fit any preference.
Dog tail butt plugs 
If you want to wag your tail in the manner of man's best friend, then the dog tail butt plugs are a great choice. These tail plugs are available in four different sizes so that everyone can get a size that fits them.
Loyalty comes with this territory and every command is obeyed diligently. That's why these tails come with a silicone butt plug which is known for reliability and strength. The solid frame is a source of stability that gives you the freedom to bark and wags your way to amazing fantasy.
Fox tail butt plugs
The fox tail butt plug is a sensuous classic that brings out the fox in you. The tails come in different lengths and if you are ready to take on the wild, the extra-long one measures 80 cm. Similarly, the tails are available in different levels of furriness and colors.
The variety of plugs with the fox tail is also wide, giving you the freedom to choose the different combinations of length, color, and furriness with your favorite plug type.
 Princess butt plugs 
If you fancy royalty, then you are in the right place. The Princess butt plugs are an opportunity for you to don the title of princess or prince if you like. The royals always adorn themselves with the best jewelry. In case you want the luxurious stuff then you can choose the gold plugs which represent a refined status.
These butt plugs come in different sizes and shapes to satisfy your yearnings. You can choose the shape of the jewels attached to the stem of each plug. For example, you can choose a diamond shape or the shape of a heart to create your own reality.
The Princess butt plugs come in a variety of materials, colors, and textures that represent different aspects of royal taste.
 Anal Hooks
The anal hook is a perfect choice for kinky sex. It resembles a torture weapon and can be used by the master to portray total control over the subject. If you wish to explore your wild fantasies, these hooks will take you on that journey in any way you like since they come in different sizes and shapes.
They are made of stainless steel which ensures durability and reliability for boundless, kinky fun. Some people may be worried about a steel object getting into their anus. These are entirely safe because they are designed with rounded surfaces and no sharp edges.
Extra-large butt plugs
For players who have gained a lot of experience in anal sex and want to take it further, the extra-large butt plugs will help you derive pleasure by creating true fullness in your anus.
They are available in three categories namely the enormous glass plug, the silicone plugs, and the long plugs. The first category consists of a huge glass plug measuring 7.5 cm at its widest part and 16 cm long while the second category is the silicone plugs which are available in three sizes of L, XL, and XXL.
The third category is the long and slender plugs that are meant for those who want to explore deeper.The third category is the long and slender plugs that are meant for those who want to explore deeper.
---