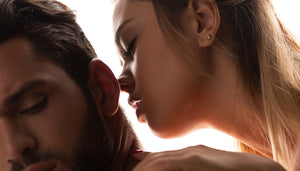 Pegging Your Boyfriend or Girlfriend
If you are looking to spice things up in the bedroom and maybe even explore your dominant side, then pegging could be the answer.
Lots of women and men, no matter their sexual orientation, can enjoy penetrating their partner using a strap on or sex toy. Pegging is a term that used to only be used between men and women, but it is now something that couples of all sexual identities can enjoy.
Everyone has their own unique turn-ons and kinks. Taking time to experiment in the bedroom with your lover can be a great way to figure out what your biggest turn on is, as well as just being a fun way to spend time together.
Pegging is something that a lot of couples can enjoy together, as long as they know what they are doing.
What Actually Is Pegging?
Pegging is a term that traditionally was used to refer to women dominating their male partners using a strap-on or similar toy.
However, over the years, it has grown to be much more than something that only heterosexual couples experiment with. It now includes all couples of all genders and sexual orientations.
With this in mind, pegging is the term used whenever you penetrate someone using a strap on or dildo. It's a form of anal play that can bring a lot of joy to both parties in the bedroom, and it is becoming increasingly popular with all kinds of couples.
We all have our own unique kinks and turn-ons, yet a lot of couples get stuck in the same routine when it comes to sex. This is just one of the reasons why pegging is becoming increasingly popular as couples try it out as a way to spice up their sex lives and reignite their passion for one another.
As with most kinds of anal play or sexual position that isn't the standard missionary, there has been some bad press surrounding pegging.
Much like anal rimming, people tend to give pegging a bad rep without having ever tried it for themselves.
If you are willing to spice things up in the bedroom and try something new, then keeping an open mind is vital.
The best way to learn more about your body and that of your partners is by experimenting with different positions. Introducing toys, like strap-ons, into the bedroom can be the first step in trying out pegging or anal play.
Who Is Pegging For?
As we have already mentioned, pegging was traditionally a positon for heterosexual couples.
Women who wanted to try something new in the bedroom and release their dominant side would often get into pegging. This involved them using a strap on to penetrate their partner through the anus.
However, as with most sexual positions, it is no longer reserved for just one type of couple.
Couples of all sexual orientations and genders can receive pleasure from pegging.
There are lots of nerve endings in the anus, so anyone can enjoy being penetrated in this area - including straight men.
It will come as no surprise to anyone reading this article, but there is a lot of stigma surrounding anal play and anal sex for straight men.
A lot of people consider this to be unnecessary and something that straight men should not be interested in.
For those who have tried at least some form of anal play, we understand that this is just ridiculous. The anus is a very sensitive part of the body that can make anal sex, whether that is play or penetration, very enjoyable for everyone.
Yes, that includes straight men as well as gay men!
Your gender does not determine what kind of sex you should be into or what kind of sexual activities will bring you pleasure. This is why it is so important to remove all stigmas and shame from the bedroom, as it will allow you to experiment with your love freely to figure out what you're really into.
Pegging, therefore, can be a totally pleasurable experience for all kinds of couples.
What Does Pegging Feel Like?
No matter what kind of sexual position you are wanting to try for the first time, the main question on your mind will be regarding how it feels.
After all, sex is supposed to be a pleasurable and enjoyable experience, so what is the point in trying something that won't deliver these feelings?
It is important to note that although we all have the same body parts, we do not all operate in the same way. This means that one partner may love pegging and anal play, where the other couldn't be less interested.
This is why experimenting in the bedroom and having open communication with your partner is vital.
Those who have experimented with pegging in the past have claimed that it feels sensational and highly pleasurable. As the anus has a lot of nerve endings, it is highly sensitive, resulting in a truly unique experience for the person receiving the pegging.
This pleasure can be intensified by using different sized dildos.
It is recommended that a small, narrower dildo is used when trying out pegging for the first time. However, the more you get used to anal play, and your body responds better to this type of penetration, you can increase the size.
With this in mind, pegging may feel uncomfortable the first time you try it.
If you have little or no experience with anal penetration, then it is likely that your anus will be quite tight. This can make it quite difficult for your partner to insert a strap on into you this way.
This may be quite uncomfortable at first, but no type of sex should ever cause you pain.
Anal play can take some time to get into, as you need to allow your body to loosen up so it will be better equipped for penetration.
When trying pegging for the first time, make sure to use a small dildo and plenty of lube to make the process easier and, therefore, more enjoyable.
Once you have been penetrated, some people claim that it can result in a feeling of fullness that isn't unpleasant.
It can make people feel somewhat vulnerable, which can be a turn-on when in a safe and consenting circumstance, and as though they are being overtaken or controlled by their lover. This can be a massive turn-on for some couples, which is why pegging is so popular.
Some people have found that pegging creates a warm sensation in the anus and throughout the body.
Some couples, of all genders, can even reach orgasm through the act of pegging alone.
As we have mentioned, it can take some time for your body to respond positively to anal penetration. Many couples have to experiment with pegging and anal play for a few weeks or even months at a time before they can reach a point of total pleasure.
Experiment with different size dildos when pegging and ensure that you have a lot of lube on hand when trying out new positions for the first time.
Talking To Your Partner About Pegging
It can be quite hard to talk about sex, even with your partner.
A lot of couples, especially women in the relationship, feel awkward and uncomfortable whenever the conversation turns to sex. This can make it difficult to talk about new positions and trying out something new, like pegging.
Some people do not want to talk about trying new things in the bedroom for fear of upsetting their partner. They believe that asking to try something new may come across as a complaint to their partner – as though they aren't doing enough or have become boring in bed.
These worries are actually causing more issues in your relationship than having 'the talk' ever could!
It is very important for every relationship to have honest and open communication when it comes to sex. You both need to be aware of your interests, your desires, as well as what isn't working for you.
In order to have a healthy and fulfilling sex life, couples need to continuously talk about sex.
You want to feel close to your partner and ensure that there is a lot of trust between you in order to have a healthy sex life and overall relationship.
Being open and honest with each other is especially important when you want to incorporate anal sex into the bedroom.
As we have mentioned, anal sex can take a lot of getting used to for your body and mind, so you need to be able to talk to your partner openly about it. Trying out anal play and pegging for the first time may not be the most pleasurable experience, so you need to make sure that you can talk to your partner and share your feelings with them.
Regardless of whether you want to be the giver or the receiver during pegging, you need to have a conversation with your partner about it.
Bring up the subject in a safe and private place when you know that your opinion will be heard and understood. A lot of couples choose to talk about the bigger issues in their relationship when in bed together because they know that this is a space of total privacy.
There are no rights or wrongs when it comes to what turns you on, so don't feel embarrassed or ashamed about wanting to try something new!
Variety is the spice of life after all, and it can really make a difference to your sex life – as long as it's something you both want.
Specific Things To Talk About
When you are discussing pegging with your partner, there are some things that you will need to address.
The first thing is, of course, whether pegging is something they will be interested in and whether they are willing to try it. You want to make sure that your partner feels comfortable with the sexual positions you want them to try, or it will not be a fun experience for either of you.
You will also need to discuss with your partner your desires and whether you want to be the giver or receiver.
This is something that can change over time, and you may want to switch positions as you experiment, but make sure to put your feelings out there first.
Pegging also requires a strap on or dildo of some kind, so this also needs to be addressed.
Talk about what kind of dildo you want to use, what size will be best, and how comfortable it will feel for both of you. This could be an excellent opportunity for you to browse online for sex toys that you can use together – which will certainly get you in the mood for something!
If you are a woman who is talking to their male partner about pegging, you may also have to contend with the stigma that is attached to anal sex.
As we have already discussed, there is a lot of shame around anal sex and pleasure for straight men. Make sure to communicate with your partner and allow them to feel safe when they are discussing this position with you.
They may need some time to contend with their own issues surrounding anal sex.
A lot of straight men feel conflicted when it comes to this kind of sexual position, as they may receive pleasure from it but have been told that it 'isn't for them.'
Having a frank discussion about pegging is also an excellent opportunity for you to set some rules and guidelines beforehand.
As with any new sexual position, you need to make sure that both parties feel safe and secure.
Preparing For Pegging
Unlike the vagina, the anus is not stretchy, and it can be quite tight, especially in those who have had no prior experience with anal penetration.
This means that it can take some time to prepare for pegging. This isn't a sexual act that you can jump straight into unless you have some past experience with it.
It can take some time to get the anus ready for pegging, and you may need repeated practice in order for this sexual activity to bring any pleasure to you. This is something all couples should discuss and make time for if they want to try pegging.
There are various different ways that you can prepare the anus for pegging.
It does require more time than you would like to be spent on anal foreplay, but trust us, it will be worth it in the end.
Here are some ideas to get yourself prepared for pegging:
Use a water-based lube when inserting anything into the anus

Spend some time massaging the area and allowing your body to relax; this can loosen up the anus and make penetration easier

Before using a strap-on for pegging, prep the anus by using small anal beads, butt plus, or even an egg dildo (these can vibrate) to get it used to penetration

Use fingers or even your tongue to loosen up your partner's anus before trying to insert anything bigger

Change positions whenever you feel uncomfortable as this will make the process more pleasurable for both of you

When inserting a dildo, finger, or penis into the anus make sure to take it slow and only insert a little bit a time
Foreplay is often easier and more pleasurable when it incorporates more than one part of the body. So, when you are preparing the anus for pegging, you could also pay some attention to another pleasure point on your partner to get them in the mood.
Anal penetration can be a strange sensation to those who have never experienced it before.
A lot of people worry that they may have some kind of bowel movement when they are being stimulated this way.
If this happens to you, don't worry! This is a normal feeling to have during anal play, and it's very unlikely that you will poo or have another bowel movement.
Regardless, make sure to share any discomfort with your partner.
What You Need For Pegging
Pegging may not actually be that complicated of a sexual position when you get down to the nitty-gritty, but there are some things you will need to make the process easier.
There are some things that you should have on hand in the bedroom to help you out during pegging, and there are some things you will need to do before, during, and after the act to make sure it is enjoyable for you both.
Communication is the key to a successful relationship, and it plays a huge part in the bedroom. You need to make sure that you have open communication with your partner when it comes to pegging and sexual experimentation.
This will ensure that you both feel comfortable and are both enjoying the experience. You need to understand your partner's limitations and concerns, and vice versa.
Anal play and penetration take practice. The anus does not have the ability to stretch like the vagina, so you need to start small.
Before getting straight into pegging, you need to take some time using your tongue, fingers, or a small sex toy to get your partner ready. You want to make sure that they feel comfortable and excited about what is coming up, as well as ensuring that their anus is wide enough for penetration.
Good hygiene is vital for all kinds of sexual positions, but it is especially so for anal play.
Make sure to bathe before experimenting with pegging and spend some time around the anus area. Some people feel more comfortable when they have shaved this area, so take time to do that if necessary.
Cleaning your anus and pubic area with warm water and a gentle soap should be enough, but if you are concerned, then you may want to consider an anal douche or enema.
Make sure to use a small dildo when trying pegging for the first time. Something small and non-threatening will make this experience easier and more pleasurable for both of you.
Most couples start with something around one and a half inches before progressing as they get used to this position.
The Importance Of Lube
The type of lube that you will need to use during pegging will differ based on the kind of sex toy you are using.
Almost all sex toys will have a list of recommended lube types on the packaging, so make sure to consult this before throwing it away. In most cases, however, a water-based lube will be the best option.
You will also need to consider whether you and your partner are allergic to any kind of lubricant. Some people have issues with latex, for example, so try to avoid this.
There are lots of different lubricants out there for you to try. There are gels that have a warming or tingling effect, which can help widen the anus, as well as those with various scents or flavors.
When looking into the kind of dildo you want to use for pegging, also spend some time shopping with your partner for the right lube.
Although this may seem like an unimportant step, lubrication is very important in anal play, and the right one can make all the difference!
Getting Used To Pegging
The anus may need some time to get used to penetration, which is why practice and foreplay are so important for pegging.
Wearing a strap on can also take some getting used to. If this is something you have never done before, then you will probably benefit from trying on and wearing the strap on without a dildo inserted and without using it on your partner.
You want to make sure that the strap on feels natural and comfortable, as this will provide a better pegging experience for you both.
---