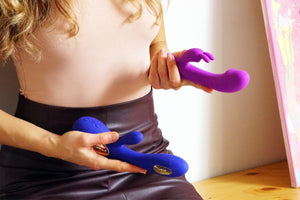 How To Repair Your Vibrator: Try This Before You Bin Your Toy!
There are many different types of vibrator out there on the market, and if you've used a variety of them - you'll know that some work better for you than others.

The only problem is that like with many other products, these only seem to work the vast majority of the time - and then other times, they can break down and refuse to turn on!

So what exactly can you do if your vibrator won't work? Well, the best course of action is to try to repair it.
We all want to save a bit of money these days, so if you can do some simple steps to fix your toy - then you'd want to do that.
Our guide looks to show you what you can do to try to save yourself a bit of time and money when your favorite toy breaks down. Read on to find out more.
You've Bought A Brand New Toy
Perhaps the most irritating time a vibrator can break is when you've purchased one that is brand new.
Maybe it worked for a little while but then it simply ceased to work any longer.

Here's what you should do if your toy is brand new and stops working for you.
Refer To The Manual
The first and foremost thing you should do is refer to the manual for guidance.
What you might notice is that the problem you are having can be easily fixed with some simple steps.

For example, there might be a setting known as a travel lock or you might have even put the batteries in the wrong way.
If you can ensure that you have ruled out some of the most obvious problems, then you should be able to move on to other potential problems.
Check The Batteries
Sometimes, the problem with your sex toy is the fact that the batteries have either been placed in incorrectly, the wrong batteries have been used or maybe the batteries have simply run out.

It's also a wise idea to check if the vibrator came with batteries to begin with.
Some sex toys will come with some starter batteries, but others will not - so it's always a great idea to ensure that you've checked this step first before you look at other problems.

Whilst we're on the subject of batteries, you should also check to see if you have a vibrator with rechargeable batteries.
If your model is rechargeable, then your best bet is to stick it on charge for a while and see if this helps.

When you receive a vibrator that is rechargeable, it might need a charge before you can use it for the first time.
Once again, this is a step that you should examine before you look at other potentially more complicated solutions.
Check For Protective Paper Or Covering
As we mentioned before, there are lots of different types of vibrator - and when it comes to the smaller models, such as bullet vibrators for example, they use smaller, rounded batteries which you might see in watches for example.

When these types of devices are sent to the customer, they are usually covered with protective paper in order to stop the device being activated in transit.
Therefore, it's a really good idea to check the battery for this type of covering first.

If you see the protective paper on the battery, you need to be careful when removing it.
Refer yourself to the manual if you are unsure how you can remove it, but there should be directions on the paper label itself.
Press The Button And Hold
Much like a lot of other electronic devices, there might be only one or two buttons, with one acting as a primary function button.
If this is the case, to initialize the device for use - you might need to "wake" it.

To do so, the button might need to be pressed and held for a short time. If this is the case, the advice should already be present in the manual.

Consider doing this anyway as it could be a simple way to troubleshoot your sex toy without having to look at other issues.
Ensure Everything Is Screwed Up Tight
A lot of times with vibrators that won't turn on properly, there is a simple fix which is by checking that all the components are screwed up tight.
If there is an area that is loose, the connection between the device and the battery is not working properly.

As a result, you may only need to tighten this area up for a simple fix.
Once again, these sorts of things should be listed clearly in the device manual - but it's a good idea to check that these things are completed first.
Check For Travel Lock Or Safety Settings
Some devices as we said earlier can have travel locks, and if yours does - you may need to switch this off so you can actually use your toy.
On top of this though, there are some vibrators which have safety settings.

These settings are usually to conserve power, but whatever the case, they can stop the device working for its intended purpose.

Check for these basic things before worrying that your toy is broken beyond repair.
The manual should tell you if you have such settings and it should also tell you where you can find them to switch them off.
Contact Customer Services
While this might be a little embarrassing, you should be able to speak with customer services online through live chat or email.
Simply explain to the customer service advisor that you have completed all of these steps and you're still stuck.

They might be able to tell you a common fix which we have not mentioned for your specific device, or they might tell you that it sounds as though the model is faulty.

If this is the case, they should be able to advise you on how you can receive a replacement or even a refund for your faulty device.
Beware though that there may be a timeframe for when you can do this without charge, so if you notice this problem - act fast.
Contact The Manufacturer
If you receive a replacement device and the problems persist, there may be a fault within the design of the sex toy.
However, if the manufacturer is not aware that a problem is present, then they will not act to fix it.

So, be sure that you inform the manufacturer of your problem and explain everything that you have spoken with the customer service team about.
It's a good idea to keep a transcript of your conversation for reference to the manufacturer as this should help to save time.

It will also help them to identify where the problem may be and how they can work to fix it for future devices, and also gives you evidence if this needs to go further.
Your Sex Toy Stops Working
If you have had your sex toy a while and it stops working randomly, you may need to check for the following problems.
Bullet Vibrator
A common fault with a bullet vibrator is the fact that the motor is dirty with clogged debris or something similar.
Open up the vibrator and inspect this. Use a Q-tip to clean the motor area and this should solve the problem.
Wand Vibrator
To find any faults with a wand vibrator, you will need to get access to the battery area.
Once you do this, you need to check for any loose wiring or some obvious indication of damage, specifically near the motor.

If you have noticed some loose wiring or clearly damaged wires, you may be able to solder these back together.
Just make sure you do this safely and with the right safety equipment.
If All Else Fails
Unfortunately, sometimes devices will have had their use and you will need to buy a new one!
Final Thoughts
It's never nice to have to buy a brand new sex toy, especially if you feel you do not need to.
Hopefully, if you try some of these steps in our guide above, you should be able to repair your toy before buying a new one.
---