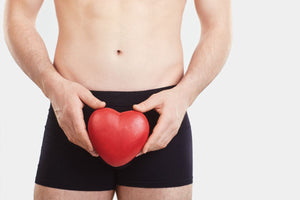 6 Easy Ways To Warm Up Your Fleshlight
Purchasing a Fleshlight is a great way to improve your solo play sessions.
There are so many different types of inserts that you can purchase to suit any and all preferences.
You can even amass multiple sleeves to allow you to select the right texture for your mood.
However, it can be a little bit disappointing to begin using your Fleshlight and find that it is cold.
Thankfully, there are a few different ways that you can warm your Fleshlight sleeve to give a more realistic sensation and experience.
In this article, we have found 6 of the most popular ways to warm your sleeve for an improved solo session. 
1. Warm Water
One of the most accessible ways to warm up your Fleshlight sleeve is by using warm water. There are a couple of methods that are popular with Fleshlight users and both work quite well.

The first, and quickest method, is to run warm water through the sleeve.
To do this, remove the silicone sleeve from the casing and run water through it directly from your hot faucet.
The temperature that your hot faucet reaches shouldn't be hot enough to damage the sleeve but will be hot enough to warm the material and make your session more pleasurable.
If you do have a particularly hot faucet and have a mixer faucet, you can add some cold water to help protect your sleeve.

Simply shake the excess water from the sleeve, insert it back into the casing, add some lube and enjoy your warm Fleshlight.

The second water method involves immersing the silicone sleeve in a bath of warm water.
You will need a bowl or container that is long and deep enough for your sleeve to be completely submerged in water.
Fill it with warm but not boiling water and add the sleeve. Make sure that you weigh the sleeve down to ensure that the entirety of it is underwater.

Let the sleeve sit for a few minutes to warm up. Then, you can simply remove the sleeve, shake the excess water from it, and place it back into the casing ready for use.

This is the most immediately available method for warming your Fleshlight.
2. Sleeve Warmer
If you are planning for future use of your Fleshlight and don't want to have to use a shared faucet to warm your sleeve, investing in a sleeve warmer is a great idea.
This is one of the most discreet ways that you can warm your Fleshlight sleeve.

Fleshlight sells a USB-powered sleeve warmer that is so discreet that you can leave it on your desk without arousing suspicion.
To use this piece of technology, all you have to do is apply a small amount of lube to the inside of your sleeve and place it onto the rod of the sleeve warmer.
Turn the warmer on and wait for the power light to turn green.
This means that the sleeve has reached temperature. If you want your sleeve slightly warmer, you can run the heating cycle again.

It is important to apply a small amount of lube to the sleeve when using the sleeve warmer as this can help prevent any damage to the material.
This is particularly important if you are using more than one cycle.
3. Hair Dryer
If you don't have the cash to be spending on a purpose-built sleeve warmer, a hair dryer can also work.
This method is slightly more conspicuous if you have roommates, especially if you don't usually use a hair dryer. However, it is incredibly effective.

Simply turn your hair dryer on to a medium power and heat setting. Angle the warm air at the entrance of the sleeve to allow the warm air to get inside.
Make sure that you keep the hair dryer moving and don't get it too close to the sleeve as the direct heat can cause damage to the material.
4. Warming Lube
If you are looking for a super quick fix and aren't too concerned about the temperature of your Fleshlight matching a human body temperature, warming lube can be a great option.
or this method, there are two options.

You can use a lube that has been designed to create a warming effect when used. Most leading brands of intimate lube make this.
Fleshlight themselves sell a lube called Fire which has a warming effect.

If you don't have any warming lube to hand, you can put some regular lube in a small glass dish and place that in a bath of warm or hot water.
This will warm the lube and make your sleeve feel more realistic.
Make sure you test the temperature of the lube on the inside of your arm before applying it to the sleeve. Intimate burns are no fun.

When using lube with the Fleshlight, make sure that it is condom-safe lube to protect the integrity of your sleeve.
5. Heating Pad Or Blanket
Another great option for warming your Fleshlight sleeve is with a heating pad or blanket.
Most pharmacies sell these types of devices to help with back pain or cramps and they are quite affordable.

If you have a heating blanket, you can put your desired sleeve into the Fleshlight casing and wrap the whole device like a burrito.
Allow the blanket to heat the Fleshlight for a few minutes. This will provide a gentle warming effect.

If you have a smaller heating pad, you can wrap your Fleshlight in a regular blanket and place it on top of the pad.
Make sure to regularly turn the Fleshlight so that it warms up all the way through. This will take longer than with a heating blanket.

It is important to heat the sleeve in the casing and wrap it in a blanket to help prevent it from getting too hot and being damaged with this method.

If you have more than one sleeve, you can have a realistic-feeling threesome by warming one sleeve while using another and switching between the two.
6. Mug Warming Plate
Finally, if all you have available is a USB mug warming plate, you can still warm your Fleshlight sleeve effectively.
All you need to do is decant some of the lube that you are going to use with your Fleshlight into a glass dish that fits on top of the warmer.

Place the dish onto the warmer and turn it on. This will help warm the lube up before you use it.
Again, it is important to check the temperature of the lube before you use it in order to prevent burns and discomfort.
Frequently Asked Questions
Can I Heat A Fleshlight Sleeve In The Microwave?
Although it might be tempting to just throw your Fleshlight sleeve into the microwave for a few seconds to warm it up, this is actually a terrible idea.
Fleshlight actually warns against this as a method of heating your sleeve which is a pretty good indication that this method won't end well for your Fleshlight.

The high levels of heat that are generated by the microwave will cause significant damage to your sleeve.
Even if you manage to not completely melt the silicone when you heat it, the structural integrity of the sleeve will be compromised.
Submerging the sleeve in water is a better option even though it takes longer.
The anticipation can be exciting though!
Final Thoughts
Heating the sleeve of your fleshlight can elevate the experience that you have with your device.
It can help make the sensation of the sleeve feel even more realistic and pleasurable. 
Make sure that you are always using appropriate lubricants with your sleeve to get the most out of it.
---