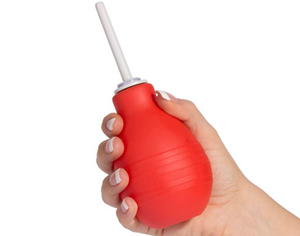 Reusing the anal douche
An anal douche is a device containing a balloon-type part or bulb (for holding a liquid), and a nozzle has the form of a short hollow tube for passing water out of it. By injecting water into the anus and rectum, the rectum is flooded, and any leftover bacteria and faeces are flushed out.
Aside from the apparent reduction to the risk, you encounter faeces during your anal sex adventures; douches have a few other benefits. Not having to worry about any accidents can make both partners feel much more comfortable exploring anal activities. Being more comfortable can make the process much more enjoyable, as each partner will be able to relax and entirely focus on the feelings and sensations of the experience.
One key factor to consider when purchasing your douche is whether it can be reused or not. Most kits have a simple nozzle, and bulb design and the kind of douche determines if it can be reused or not.
Reusable Douche
This is the common anal douche. They are designed to be used severally. After use, they are cleaned and stored till the next session comes. They have a detachable nozzle which is removed between uses to enable it to be cleaned properly. The bulbs are of varying size, and one can hold exactly the amount of water that they are comfortable in the rectum.
They are a little bit more expensive compared to the single-use douches, but since they are used over a longer period, it becomes economical in the long run. The size of the bulb is bigger thus more liquid. This is helpful because one only needs one refill for a thorough clean.
Single Use Douche
They are designed to be used only once; after that one use, they are thrown away. They are similar to the re-usable douches but are much smaller in size. They have a removable nozzle which allows the bulb to be filled with the liquid. Since they are intended for single use, they are made from cheap materials. A simple disposable douche features a tapered tip that evenly distributes fluid through holes. The tip screws on and off easily, and you can use any water-based lubricant for easier insertion. The bulb is pressed to discharge the fluid.
Since there is no need of cleaning them after use, they are easier to use and have little demands regarding operating compared to the re-usable douche. They are also cheaper than the re-usable douches on the purchase. However, there is a need to continue buying them, so over time, this will work out more expensive.
What to choose
The choice of the douche depends on personal preference. However, there are some factors to be considered too. They include price, hygiene, size and comfort.
The difference in purchase price for both the douche is not big. The price for the re-usable douche is slightly higher compared to the single-use douche. However, for the single-use douche, there is a need to continue buying them, so over time, this will work out more expensive over time.
Regarding hygiene, disposables douches are the preferred type. The disposables minimize chances of contamination to the rectum. However, with proper cleaning and storage, re-usable douches are safe and can be used repeatedly without any hygienic concern.
Materials used in disposable douches are of lower quality than those of re-usable douches. Disposable douches are mainly made from plastics, which is cheap. Plastic has stronger vibration sensations due to a firmer exterior and does not break easily. However, it's very rigid and doesn't bend easily to your form. This Might feel too firm or strong for some individuals and may discourage the choice of the disposable douche.
The size of the bulb in the douche is important too. With the re-usable douche, the bulb is bigger thus more liquid. This is helpful because one only needs one refill for a thorough clean.
Care and maintenance of Re-usable douche
For the re-usable douche, basic care and hygiene standards need to be observed. Not cleaning the material thoroughly afterward can result in bacterial or yeast infections When the anal douche enters the rectum/anus, there are even more hygiene issues to contemplate, and this includes cleaning to prevent bacterial infections.
The douche can be cleaned easily using warm and soapy water. The douche is first dismantled, separating the bulb and nozzle. Soapy water is then run through the nozzle. It can also be cleaned with cleaning sprays and wipes which are specifically formulated to clean the douches without damaging them. For thorough cleanup; one can use a diluted bleach solution.
The best way to disinfect the equipment is with a 1:10 bleach solution (one part bleach to ten parts water). Another option is using boiling water to clean it up. The douche is submerged into the boiling water for several minutes. The heat destroys anything that was left on the douche.
After washing the douche, it should be dried to avoid mold building up on it. The most common method for drying the douche is through use of paper towels. The douche components are patted with a paper towel, both inside and outside to absorb leftover moisture.
Avoid using the dingy hand towel hanging in the bathroom, because typically the towel is definitely holding some bacteria hostage unless you live alone and never have guests over, or you wash your bath towels daily. Once completely dry, the douche should be stored a cool, dry place, preferably inside a plastic bag with additional towels. The extra storage towels absorb any buildup moisture during storage.
One key factor to consider when purchasing your douche is whether it can be reused or not. Most kits have a simple nozzle, and bulb design and the kind of douche determines if it can be reused or not. You can reuse your douche. But if this is your intention, you need to ensure you pick up a high-quality douche that is going to last a while. There's no point avoiding disposables if you end up having to replace your douche every couple of weeks anyway
---