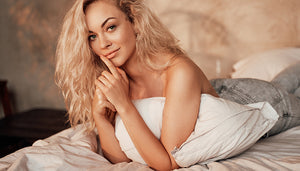 5 Best Anal Vibrators in 2020
Introduction
If you are looking for something to spice up your sex life, then you might be thinking about trying some kind of anal stimulation, particularly if you are equipped with a prostate. But, frankly, the prospect of buying something to put in your butt can be terrifying if you are inexperienced. Sure, anal play might feel good, but how do you know what sort of sex toy is the best option? Can you use regular toys for anal, or do they need to be specially designed?
Fortunately, we are here to help you make a decision. We have done extensive research into sex toy choices for anal sex, from the humble butt plug to advanced prostate massager designs and the best anal vibrators out there. We are here to take the fear out of researching the wonders of the vibrating butt plug for anal play, and you can trust that all of the products on our list are among the best anal vibrators for anal play on the market at the moment.
Whether you are looking to get your "p spot" tickled with a vibrating prostate massager or just to buy a comfortable and stylish butt plug, look no further than our handy list of the best anal toys on the market below!
1. 2 Inch Mini Silicone Vibrator Plug
Small, discreet, and stylishly designed, the 2 Inch Mini Silicone Vibrator Plug is one of the most subtle and refined butt plugs vibrators on the market at the moment. This can be worn without anyone else knowing, unlike many larger anal sex toys, and it comes in a choice of purple and pink colors.
This butt plug is made from hypoallergenic medical grade silicone, giving a durable construction and a soft, pleasant to touch surface, ideal for anal play in any situation. The unique rounded tip of this vibrating butt plug ensures that penetration with this anal sex toy is gentle and comfortable, and the flared stopper at the base ensures that you can be deeply penetrated with no risk of losing the plug during anal sex.
As a small and understated vibrator for anal sex, this sex toy is ideal for anal experts or inexperienced beginners alike and makes a great first anal sex toy. Its adjustable vibration settings allow you to choose between 7 different vibration patterns, more than most other anal sex toys, ensuring that you can find the perfect pattern of vibrations for your body and your personal preferences, perfectly customizing your sexual experience to your particular needs.
2. Anal Beads Plug Black Suction Cup Dildo
If you are looking for something a bit bigger and more dramatic than most butt plugs, then the Anal Beads Plug Black Suction Cup Dildo might be the perfect butt plug for you. At a formidable 21.9 cm in length, 5 cm in girth, and a weighty 446 g in weight, this is a big, chunky sex toy that offers some impressive stimulation during anal sex.
Made from smooth PVC for easy cleaning and smooth, comfortable insertion, this is one of the easiest sex toys out there to look after. The surface is smooth enough to give a comfortable experience with or without lube, unlike most anal sex toys. It also features a removable suction cup on the base, allowing for hands-free anal toy play when it is attached to a flat, smooth surface.
This is more than your standard anal toy, although it does not feature any vibration features. It is not complicated, and it is not high tech, making it easier to look after and harder to break, but it is certainly larger than most anal toys out there!
The one concession to advanced design is a beaded texture, designed to stimulate your anal glands for maximum pleasure during penetration, giving more sensation than almost any other butt plug available. Promising a high level of stimulation, a pleasing weight, and a great, impressive stretching sensation, this anal beads butt plug is one of the best anal toys you will ever buy.
3. Vibrator Plug Silicone Black
With a slick, premium design, and refined, exquisite vibrations, the Vibrator Plug Silicone Black is one of the most premium and luxurious anal toys on our list. This model of anal vibrator is one of the best-reviewed among experienced fans of anal sex, and it certainly looks and feels the part.
This premium prostate massager offers slick, refined looks with a smooth black silicone surface that is easy to clean, good looking, durable, and flexible for easy maintenance, comfortable insertion, and a long life even with extensive usage. The silicone surface feels great as it goes in, even before you try the vibration settings available with these toys.
Choose between an intense single speed vibrator toy and a 10-speed vibrator, allowing you to adjust the vibrations to perfectly match your personal preferences and the needs of your body. This is all controlled by a simple single-button system at the base of the silicone toy, allowing you to quickly and easily turn it on or off with a single touch, even while using it solo.
Despite its small size (1.57 in by 4.13 in), this silicone toy can offer powerful sensations on par with much larger anal vibrators, thanks to its adjustable vibration settings. Overall, this is one of the best vibrating butt plugs in the anal toys market and brings a premium flair to your collection, raising the tone and helps you to feel classy during anal play.
4. Rose Plugs And Vibrator 3 Piece Set
A little flashier than some of the other anal toys on our list, the Rose Plugs and Vibrator 3 Piece Set is still one of the best anal sex toys available. The set contains a small rose plated butt plug (0.98 in x 3.15 in), a medium rose plated butt plug (1.18 in x 3.54 in), and a large vibrator (0.71 in x 3.74 in). That is a good range of different sized toys, with sizes available to fit amateurs who are new to anal play as well as experienced anal toy fans.
The two butt plugs are made from heavy, durable stainless steel, which is long-lasting and easy to clean as well as giving a satisfying feeling of fullness, while the rose plated flared base offers safety and security as well as a good look that is sure to excite your partner for some of the best anal play either of you has ever experienced. These plugs are great toys to help you feel sexy during sex, and they are sure to satisfy you every time.
The vibrator included in this set is great for anal use or any other vibrator purpose you can imagine. Its silicone skin is soft to the touch and easy to clean, while the vibrator inside has 10 possible speeds, allowing you to choose from a wide range of different levels of sensation so that you can find the perfect feeling to match your body's needs and your personal sexual preferences.
5. Flesh Vibrating Dildo Anal Beads
The last entry on our list of the best anal toys is a little more intimidating looking than most others, but the sensations it offers are more than worth it. The Flesh Vibrating Dildo Anal Beads might look like some sort of incomprehensible alien weapon, but it is actually a remarkable multi-purpose toy that promises to help you become the greatest lover ever.
This toy is made from soft-touch medical grade silicone, giving a gentle, comfortable feeling against your skin and a hygienic, easy to clean product overall. All of its various attachments are very durable and long-lasting, and this is one of the best and most comprehensive strapless strap on toys for people with vaginas in the entire market. Let us take a little look at what it can do.
The most obvious part of this remarkable toy is the flexible penis head for pleasuring your partner. This can be bent into any curvature you like, allowing for whichever positions and configurations feel best for you and your partner. At a formidable 10 inches in length, this dildo promises deep penetration and spectacular orgasms every time, and it comes with the added bonus of vibration for additional stimulation.
The penis head has a girth of 2 inches, which is wide enough for a high level of pleasure, but narrow enough to allow for a high level of flexibility and movement in any position.
The second notable feature is the internal vibrator, bringing all of the stimulation of vibration straight to you while you wear this strap on. Its silicone surface is comfortable, while the device itself is sized to fit snugly but comfortably in most vaginas for a reliable, non-slip strap on experience.
Thirdly, this dildo also features a line of anal beads next to the internal vibration component. These have multiple functions. They act as a bit of additional stability for the strap on, allowing you to try more vigorous or unconventional positions without having to worry about the strap on slipping out during sex, as well as giving pleasant anal stimulation thanks to the ribbed, beaded surface.
As an additional benefit, the vibration from the main body of the toy is transmitted through the anal beads, bringing pleasurable vibrations all the way into your body from multiple directions, all in a single toy.
This toy can do everything for both you and your partner. It might look a bit intimidating at first, but the results it offers are spectacular, helping both of you to reach toe-curling orgasms every time. You won't find any other anal sex vibrators that offer quite this many features for pleasuring both you and your partner!
Whether you are looking for anal beads, vibrators, strap ons, or dildos, this one device has you covered and will bring all of the benefits of all of these types of toys at the same time for some truly spectacular sex.
Conclusion
No matter whether you are an experienced master of anal sex and looking for the toys available to enhance this or a complete novice looking for a great first toy to experiment with, at least one of the vibrating butt plugs in our list above should be a good fit for you.
Most of these are accessible to anyone and offer a range of different vibration settings so you can customize them to fit whatever feels most comfortable for your body during anal sexual experiences.
Some of these anal vibrators might look a little intimidating, particularly if you are not very experienced with anal sex, but there is no need to be worried about them. Take things slowly and carefully, and you will be sure to have a great time. If you are still unsure, try buying one of the smaller and subtler options to start with, and ease your way into the experience.
No matter whether you are looking for a larger and more powerfully stimulating toy or a subtle, discreet plug that you could wear under your clothes for a little added excitement, there should be an option somewhere on this list that should fit your needs perfectly.
All of the butt plug choices on our list are safe, reliable options that are easy to maintain. You can buy any of these with full confidence that you are getting a high-quality product, and there is no single "best" toy. Which one you choose should be a matter of personal preference, and deciding what suits your body and your sexual preferences and tastes the most comfortably.
If you are experienced with anal sex, you probably already know what you are into, but if you are new to the world of anal stimulation, then you might want to experiment a bit in order to find the perfect toy for you.
---