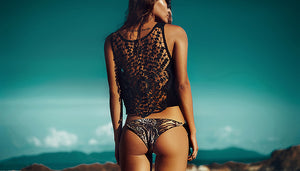 10 Best Anal Dildos in 2020
Sex can be a difficult thing to talk about, and many people go into it without fully understanding how to handle it safely. One of the biggest dangers that gets overlooked often is the inclusion of sex toys: in particular, sex toys for anal stimulation.
Finding the right toy isn't just a matter of pleasure, but making sure that you are safe, comfortable, and aren't accidentally harming your body by using something that you shouldn't be. Even a small mistake in the kind of toys that you are using can be painful, so you will want to make sure that you are buying something that you can trust.
Below are ten of the best anal dildo toys on the market. Whether you are brand new to sex toys or a long-time user, you should take some time to research your options.
1. Anal Beads Plug Black Suction Cup Dildo
This simple, vibration-free sex toy has been made from easy-to-clean PVC materials that provide a smooth surface, making it easy to use with minimal preparations. At just under 22cm long and 5cm wide, it is a fairly versatile size, and the removable suction cup base means that you can effortlessly attach it to a surface for extra safety and stability.
Unlike conventional dildos, the toy has a beaded design that is meant to stimulate anal glands and provide increased pleasure - however, thanks to the smooth material surfaces, it can still be used without any kind of lubrication if you run out.
Pros:
+ Made of an easy-to-clean material.
+ Can be used with or without lubrication.
+ Suction cup for increased safety.
+ High, versatile insertable length.
+ Flexes easily.
Why We Liked It - This may not be the most extreme anal dildo on the market, but it offers a simple, easy-to-use, and consistently pleasurable experience every time.
2. Faak Large Anal Beaded Dildo 2 Colors
This PVC anal bead dildo is longer than you might expect, but the increased insertable length is spread across multiple beads that provide multiple layers of pleasure. The soft but reliable material used for the main body ensures that it can remain stable without being too rigid, and the larger-than-average overall size makes it much more versatile for any kind of user.
It may seem intimidating at first due to the added size, but a slowly-increasing width means that you can take it one step at a time and not hurt yourself. The toy comes in three color options, letting it stand out from your existing toy collection.
Pros:
+ Slowly increases in width from the tip downwards.
+ Reliable suction cup base.
+ Beaded for extra pleasure.
+ Made of a soft PVC material.
+ Versatile design and shape.
Why We Liked It - This is another anal dildo that is easy to understand, giving you a simple anal play toy that is all pleasure and no extra frills.
3. Hook Yuechao Stainless Steel Anal Hook With Anal Beads Metal Butt Plug
Metal might seem like a scary material for anal play, but these three stainless steel plugs are designed with fantasies in mind. Each metal hook has a different bead design - one bead, two beads, or three beads - that feel completely different after penetration, and the hook handle makes them much safer to use for solo play.
With a partner, creative use of the hooked design can lead to some really fun positions, and the surprisingly flexible shape of the beads themselves makes the toy perfect for all kinds of experimental tricks. First-time users and experienced sex toy owners alike will find these toys perfect for getting straightforward pleasure in a quick, controllable way.
Pros:
+ Easy for first-time beginners to control.
+ Less focused on excessive length.
+ Three different bead options.
+ Made from durable stainless steel.
+ Perfect for fantasy fulfillment.
Why We Liked It - These might not be the kind of anal dildo you think of first, but they are an excellent choice for people who prefer a more subtle type of pleasure rather than pure length.
4. Flexible Anal Dildo With Suction Cup
Using a more conventional dildo design, this anal dildo is focused on giving you more than just a generic set of beads or a smooth surface. Modeled to look like a real set of equipment, this 5.7-inch sex toy comes in a range of colors - everything from flesh to a vibrant pink.
Veins and bumps allow for much more natural anal play stimulation, making use of high-quality TPE material to provide a good balance of flexibility and comfort regardless of the position you are using. The suction cup base of this anal dildo can be used to hold it in place while you are using it, or you can have a partner take the wheel and steer for you!
Pros:
+ Great for both solo and couple anal play.
+ Uses a realistic anal dildo design.
+ Easy to hold in place via suction.
+ Very flexible and comfortable.
+ More realistic than most anal dildos.
Why We Liked It - If beads don't do enough for you, this anal dildo can solve the problem through a flexible, stable, and highly pleasurable design that can be used either alone or with a partner.
5. Popular Crystal Anal Bead Glass Dildo
A glass anal dildo can seem scary at first, but the best brands make sure that their toy is perfectly safe. This double-ended sex toy uses a smooth side and a ridged side to give you more options with your alone time, specifically curving in the middle to ensure that you can get more creative uses out of such a simple creation.
The material only makes it more exciting, adding an element of fake danger to your sexual adventures and giving you a solid, non-bending anal sex toy that doesn't stop being enjoyable.
Pros:
+ More stable than most anal sex toys.
+ Can fulfill fantasies quite well.
+ Very easy to clean after use.
+ Dual-ended design for more variety.
+ Perfect for solo and partner use.
Why We Liked It - Glass might not flex, but sometimes this can be a good thing: this anal dildo takes the solid material and turns it into something simple, effective, and extremely good at hitting your weakest points.
6. Expander Guimi Metal Anal Plug Expander Prostate Massager Anal Dildo Stimulator
This expanding anal dildo plug is easy to slide in, giving you two different ends for specific acts. One side stretches out the anus and puts pressure on your senses, while the other is perfect for massaging and stimulating your vulnerable spots.
Simple penetration and a safe insertable length mean that you are never putting yourself at risk while using it, and the extra prostate stimulation can make it extremely pleasurable for first-time users. At 8cm long and only 2.8cm wide, you aren't going to hurt yourself if you are new to anal play, meaning that it can be a great starting point for inexperienced anal sex toy users.
Pros:
+ Great for first-time users.
+ Safe insertable length and size.
+ Made of easy-to-clean silver chrome metal.
+ Offers two toy ends in one design.
+ Extremely compact and versatile.
Why We Liked It - This anal dildo plug might be small, but this lets you use it for a much greater range of situations, especially if you feel adventurous.
7. Blue Double Head Glass Dildo
Taking inspiration from other glass dildos, this anal dildo uses a double-headed design that is built on with swirls, bumps, and other raised elements to give your body a constantly-changing toy that never feels quite the same. The top of either side has a large, bead-like head that pushes its girth up to 1.3 inches, with a total length of 8.3.
Since it has two ends, the insertable length is entirely up to you, and going further will provide more stimulation from the raised parts. Thanks to the reliable hand-crafted design and simple shape, it can also work for non-anal play.
Pros:
+ Stylish visual design.
+ Uses bumps and raised lines to provide greater pleasure.
+ Made from tough, non-flexible glass.
+ Double-headed for twice the fun.
+ Fairly high insertable length.
Why We Liked It - This is a great vaginal and anal dildo that combines sturdy glass with a unique, bumpy design that can make every single session feel different.
8. Screw Blue Pyrex Glass Anal Dildo Butt Plug Crystal
This screw-like glass anal dildo is designed for maximum pleasure, using an asymmetrical, bulbous shape that puts extra pressure on your sensitive nerves and never gets boring!
The high-quality construction, combined with the rounded tip, means that you can get the dildo in without much effort - once, in place, comfort and friction are balanced, meaning that you can get even greater pleasure without having to make sure that it will not harm your body as you move it. At 170mm in length, there is plenty of dildo shaft to work with, but you can easily stop yourself from taking too much!
Pros:
+ Unique, twist-based design.
+ Glides in and out easily.
+ Made of smooth, durable glass.
+ Large, handle-like base section.
+ Designed to improve pleasure through friction.
Why We Liked It - First-time users might feel nervous at the sight of this anal dildo, but it offers a design that can really step things up and make you feel brand new types of pleasure.
9. Strap On Faak Dildo Animal Wolf Dildo
This beastly anal dildo is pure fantasy fulfillment, taking inspiration from the real shape of wolf penises to give you a toy that will stand out from the rest of your collection. At 185mm long and 67mm wide, there is plenty of length and girth to make use of, and the nature of the design makes it an incredibly satisfying way to please a partner.
You can easily get it into strap-on harnesses if you need to, and the rough texture of the outer surface - combined with the fake veins - makes the experience much more raw and carnal than most other vaginal or anal dildos.
Pros:
+ Great for fulfilling fantasies or taking part in role-playing.
+ Built for beastly pleasure.
+ Easy to use as a strap-on dildo.
+ Textured for a rougher feel.
+ Chunky, girth-focused shape.
Why We Liked It - First-time users might feel nervous at the sight of this anal dildo, but it offers a design that can really step things up and make you feel brand new types of pleasure.
10. Flesh Vibrating Dildo Anal Beads
This vibrating anal dildo has a unique design that offers three different types of penetration: the beads and two more conventional dildo types, each of which has its own texture and thickness. The silicone used for the design is easy to clean and very hygienic, ensuring that you can use it over and over again.
Despite running on pencil batteries, it can offer plenty of motion in each of these three toy types, giving you multiple ways to coax orgasms out of your partner with minimal time wasted. At two inches thick, the toy can stay comfortable for inexperienced users while still being wide enough to please anybody that takes it.
Pros:
+ Very flexible and bendy.
+ Offers three different ends.
+ Vibrates gently.
+ Doesn't require much power to operate.
+ Easy to use either solo or with a partner.
Why We Liked It - This is a great anal dildo for people who prefer variety and constant changes of toy, giving them three different options in a single, vibrating body.
Anal Dildos Buyers' Guide
Sex toy products, and anal dildos specifically, are very easy to get wrong. If you aren't sure what you are dealing with, you can end up hurting yourself, especially if you are completely new to any kind of anal play or stimulation and don't understand how different parts of it are supposed to work. Choosing the right anal dildos is important for both safety and pleasure, so it is a good idea to understand what matters most.
Toy Types
The best anal dildo for your needs might not even be a dildo at all - anal toys come in all shapes and sizes. The best anal dildos, in your opinion, might be plugs or beads, for example, these aren't technically the "best anal dildos," since dildos are generally seen as a penis-shaped object, but that doesn't stop them from falling under the same label.
You don't necessarily only like one of the anal dildo types on the market. Many people will choose a best anal dildo, only to find that they like another one better after experimenting a bit more. The idea of a "best" anal dildo isn't really honest since even the size and base type of a dildo can change how it feels. You might have several best anal dildo options, or consider a different one to be the best for certain interests and fantasies.
Male or Female?
While most anal dildos are unisex, some anal dildo toys are specifically designed for one sex or the other. Mens' dildos for anal won't have the extra vaginal parts that some womens' anal dildos can have, and each dildo design may be aimed at a certain sex but work for both of them.
Girth
Girth is often said to be one of the most important parts of any vaginal or anal dildo, and for a good reason. Dildos live and die by their girth: one that is too small won't feel as pleasurable, and one that is too big won't fit. You can't simply choose to use less of the girth, so finding suitable anal dildos of a reasonable size matter a lot.
If you aren't sure what you can take, start small and work your way up: even a small toy can be used in creative ways to bring out some pleasure, so going for one that is slightly too thin isn't necessarily a bad thing.
Some people prefer excess girth, and even intentionally look for anal dildos that are larger than they expect to push them beyond their limits. However, unless you are into that already, you should be careful to stay within a level you can manage. Whether they are glass dildos, metal plugs, or something else entirely, every toy you buy needs to fit before you can start enjoying the rest of it.
Length
Many people think that length is all that matters, but that is simply not true. The best anal dildos, as well as dildos in general, need to be comfortable. People who are new to anal dildos might think that the best anal toys are the longer ones, but a dildo that is too long becomes a problem in its own way.
Unless you are fulfilling a fantasy, there is no reason to buy something extremely excessive – you will get the best anal stimulation out of something that suits your body shape and size.
The best anal dildos for each person are the ones that feel pleasurable, regardless of how long they are. You might find that the best anal dildos and toys for you are plugs, despite many anal plugs being only three or four inches big at most. A long anal dildo can sometimes be appealing, of course, so this is entirely up to the person that is hunting for a new dildo.
Fetishes and Fantasies
Fetishes and our fantasy scenarios are a massive part of sex, so toys have naturally been created to make them a reality. There are anal dildos based on animal penises, anal dildos that take inspiration from fantasy monsters, and even anal dildos that are entirely focused on feeling painful or larger than they should be. The best anal dildos for your kinks and fetishes are obviously up to you, but you can usually find something for more common kinks, as well as ones that you might not have known you had.
If you aren't interested in something, you shouldn't force yourself to get anal dildos that simulate it. While you might realize that you like the experience, there is a good chance that you will not be as interested in real life as you are in your head. You can't give yourself a fetish or fantasy, so never force them onto yourself unless you are sure you are interested.
The Base
The base of a dildo can be one of the best or worst features of a dildo design. A good suction cup base can keep it steady and protect you from harm. A bad suction cup base might make the dildo slip around, or even cause a smaller dildo item (such as a plug) to get stuck inside you until you can free it. Finding a good suction cup base (or a grip, if you prefer to hold the dildo) is one of the best steps you can take.
A suction cup base becomes important for dildos of any size, but larger ones need to get suction cups of a bigger size. A generic suction cup might not be important to everybody, but they can make dildos much easier to use for a newcomer or first-time user. Remember that suction cup features depend on the surface below you, too - attach them somewhere reasonable if you can.
Gifts
Dildos can make good, sensual gifts for a certain kind of person. You might be able to find complete gift sets for them: this can include a dildo and some free stuff, such as free lubricant or other free dildo extras. Some of these might even be starter sets that include free lubricant, a free set of instructions on how to use your dildo safety, or even free extras like a plug for "warming up."
Of course, you want to be sure that the free extras are good-quality. Free dildos might have looser suction cups, and a free dildo might even be made of cheaper materials: be careful with the company you are buying from.
Conclusion
If you are still on the hunt for the best dildos available, don't be afraid to look up some top dildo types and see what you might like. There isn't a unified list of the best dildos around since the "best" options depend entirely on your preferences and limits.
However, sometimes the best way to find top sex toys is to take a look at what others recommend: many experienced users will have advice on the best way to get started using sex toys, as well as how to keep them clean and avoid hurting yourself.
Whether you go for the best niche dildo you find or settle for one of the top options on the market, there is plenty of fun to be had with even a basic dildo! Take your time and look around for something that you will like: the more time you spend refining your search, the better, the pleasure will be afterward.
---