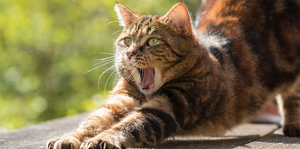 Anal Training: How to Stretch Your Anus for Sex
You don't know where to start with anal sex? Keep reading.
You mean like doing weights with my butt?
Not really. The essence of stretching your anus is to prepare it for any kind of anal play. The sudden stretching of muscles that are not accustomed to a particular activity can be painful and can result in unnecessary damage. That is the reason athletes will always start with simple exercises before taking on extreme activities. This also applies to the anus. For you to engage in your first anal play, the muscles need to be prepared to make any penetration whether by a penis or toy effortless.
The anal training can be done using a butt plug to stretch the muscles gradually as you enable the anus to accommodate small plugs and eventually move to the bigger toys. Butt plugs come in a range of different sizes and shapes for you to choose which one best suits you.
Getting started: It's all about you.
If you are considering anal play, it's important to know that you are supposed to have fun and enhance your pleasant experience. Whether you are doing it out of curiosity or you want to be able to have anal sex, you need to start small and progress gradually in a way that is comfortable for you.
Anal play should not be scary at all. Ensure that your mind is on board and clear of any stereotypes. Mental relaxation will help you to relax the body too for you to start this exploration.
When you are nervous for example your muscles will tighten. It is a normal defense mechanism. When the butt tightens nothing can penetrate the anus and this is the reason you need to relax before you take the next step.
What do I need to start anal training?
Essentially you will need lube to be able to start anal training and make it effortless. You can use your fingers for the whole process of anal training or you may decide to use a small butt plug for a start and avoid anything big which may cause damage. The aim here is to stretch the muscles in a gentle manner.
More Lube?
Yes. This cannot be overemphasized. The more lube you use the better the outcomes. The anal passage does not self-lubricate like the vagina. Any penetration of the anus even with a small object or finger without the proper lubrication can cause tearing and bleeding. It is therefore imperative to have lube handy as you embark on anal training.
Choosing the right lube is also a key component in ensuring safety. For example, toys made of silicone should not be used with silicone lube because it may damage the toys. Some people are allergic to flavored lubes and should be on the lookout for ingredients that may cause allergies. Silicon-based lubes work well with steel or glass sex toys however.
After you have chosen the right lube, apply generously around and inside the anus. Ensure that if you are using your penis, fingers or toys you apply lube on them in abundance. It is very critical that at every stage of anal play there is enough lube on everything that is inserted in the anus and everywhere around and inside the anus. This will ensure that you avoid any damage and make the whole experience full of pleasure.
Don't overdo your training!
As mentioned you need to relax mentally and remain calm while anal training. This will help the sphincter muscles to relax and easily welcome a penetrative object which in turn makes the stretching process so much easier.
Anal training and anal sex can be very exciting if you are well relaxed and in an environment that is conducive. Depending on what suits you, it could be a warm bath, meditation or a massage. Remember that you are not aiming to dive into penetrative anal sex in a hurried manner.
When you are fully relaxed you can now get started with your training. You can begin with a sensuous anal massage or analingus where your partner uses the tongue to massage the anus.
Begin with one finger by massaging the area around the anus until you feel the muscles loosen. Proceed gently by sliding the finger into the anal passage and massage the inside in a slow and circular motion. In case you encounter some difficulty do not despair. The objective is to move gradually in the process and make it as comfortable as possible. Simply pull out the finger, add more lube and try again at a different angle.
If you are able to manage one finger past the sphincters you can then try two fingers and the three. If all goes well you can move to a small plug and gradually pick the bigger plugs. Remember to apply lots of lube and don't force anything. Any pain should be a warning to stop.
How long do I need to do this for?
This will vary for different people. Always pay attention to your body's reaction and determine whether you can carry out the anal training for hours or you would prefer short sessions spread out on separate days. The target should be to allow your anus to gain familiarity with penetration at a pace that is comfortable.
In case there is a long gap between sessions, do not pick up from where you left. Muscles tend to tighten back when not exercised regularly. You may consider taking a few stages back and gradually move up to avoid hurting yourself.
Be careful!
As mentioned, relax
yourself
and ensure that you apply plenty of lube at all stages of anal training. The anal lining is very sensitive and prone to tearing mostly when there is minimal lubrication. Pay close attention to your body's reaction. Any pain, irritation or bleeding should be a warning for you to stop. This is a gradual process and you should not strive to accomplish it in one session.
---